Smile Enhancement
Digital Smile Designing
Case of 6 Emax Ceramic Veneers
Happy Patient
Keep Smiling
10 Year old Composite Veneer survived without any maintance.
40 Year Old patient Looking for more youthfull appearance.
old composite removed under microscope surprised to see huge gaps under those composite.
Veneer preps done..
Note the finish line of ceramic veneer in gaps cases
Double Cod technique for impression makingtemporisation.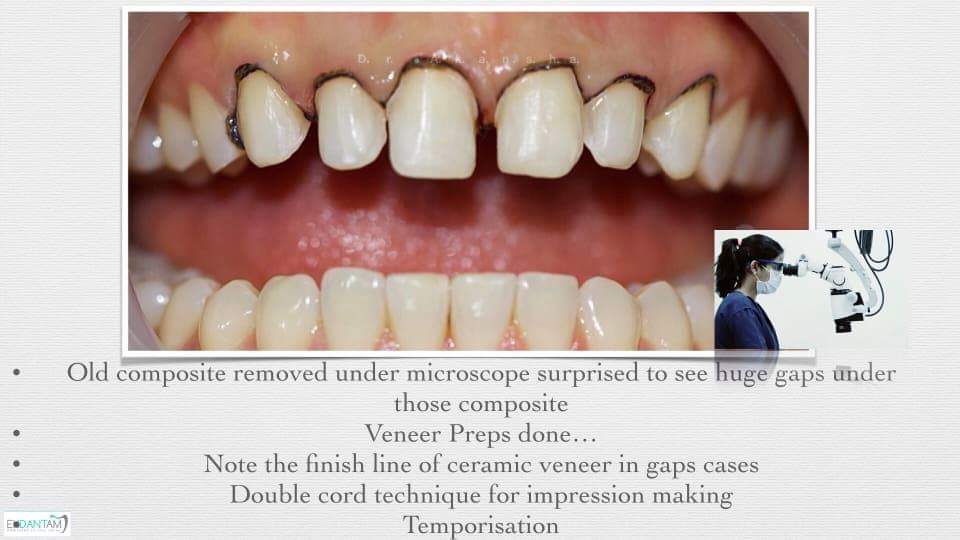 Convery to your technician the age of patient always!!(One of the factors for determining Color, Texture, Translucency is age)
Giving Color map makes technician job simpler.
Patient would always want ultra white..Keep patient chioce in mind but your knowledge, experience in front.
With Fine wrinkles lip thinning, facial ageing –  ultra white and high translucency would give fake look.
Follow Manufacturer instruction for cementing.
Make sure to remove all extra cement ..My Blade no 12.
Happy Patient.
Place:- Ekdantam Dental Clinic